Android SDK Overview
JAnalytics Android
Modular Jiguang Developer SDK
The Jiguang Developer Service SDK adopts a modular usage model, namely a core (JCore)+N service (JPush,JAnalytics,...), which allows developers to use a single service or multiple services, which greatly optimizes the duplication of functional modules when multiple modules are used simultaneously. As shown below: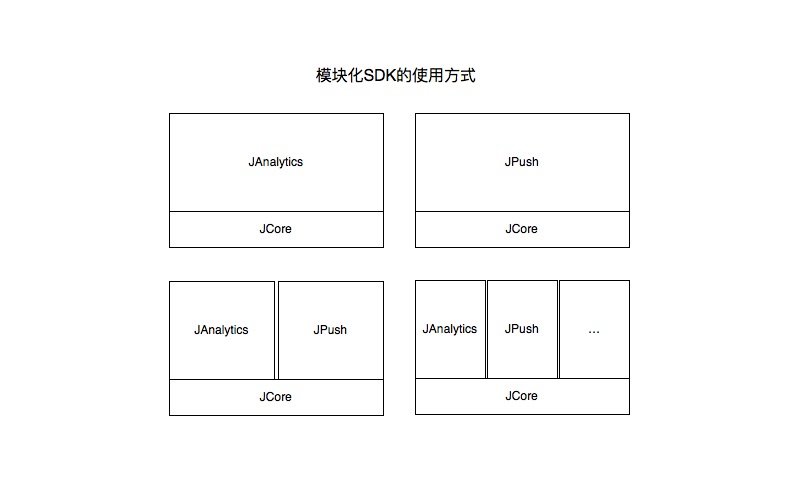 Reporting Strategy
The JAnalytics Android SDK adopts a strategy of separating data records from data reporting. The data is recorded in real time and reported in accordance with the reporting strategy.
Open application reporting
Close application reporting
Remarks: In the event of an extreme situation leading to unsuccessful data reporting, the data will not be cleared, but wait to be triggered by the next reporting strategy and then report.
Package Description
The JPush Android SDK archive for downloading contains the following sections
AndroidManifest.xml

Configuration file of client embedded SDK

libs/jcore-android_1.x.x.jar
libs/xxx/xx.so
libs/janalytics-android-sdk_1.x.x.jar

SDK analysis development package

example

It is a complete Android project that demonstrates the basic usage of the JAnalysis SDK and can be used as a reference.
Integration Approach
At present, the SDK only supports Android 2.3 or later mobile phone systems. Reference: Integration Guide of JAnalytics Android SDK.
Interface Description
Reference: JAnalytics Android API
Technical Support
When a problem occurs:
Please read the documentation carefully to see if there are any omissions.
Send an email to us: support@jiguang.cn
In order to solve the problem more quickly, please provide the following information when seeking help:
Provide appkey
If it is a SDK issue, please provide the corresponding SDK version and complete logging